CFI's activities
Franchise Club
international and local conferences
education about franchising and related fields
promotion and popularization of franchising
business consulting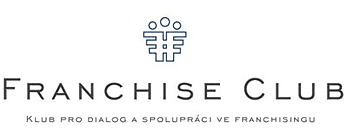 We are a business club founded in 2006. Today, we have about hundred permanent associate members (Member of the Franchise Club - MFC). We are now the largest and the broadest platform focused on franchising in the Czech Republic. List of brands with which our members are connected and work for, you can see here.
For the past years we have invited large number of significant entrepreneurial and managerial leaders to our evenings - Franchise Club, particularly those that affect and define the Czech franchising and network business. They present their business vision and approach, experience, and "formula of success", but also often their interesting fortunes. Guests of the club are interesting personalities, who directly or indirectly help development franchising in the Czech Republic. Relaxed atmosphere in a club makes it easy to establish business contacts.
LOCAL CONFERENCES Franchising &...
Real Estate Summit 2014
- 8th national meeting dedicated to services and networking in real estate business.

Real Estate Summit 2013
- 7th national meeting of major players from the Czech real estate market, Kaiserstejn Palace, Prague

Real Estate Summit 2012
- 6th national meeting of TOP Czech Realtors",
17.5.2012 Corinthia Hotel Prague

Networks & services of real estate agencies (2011)
3.5.2011 Hotel NOVOTEL Praha

Franchising &... Real Estate Agency Networks (2010)
11.5.2010 Hotel NOVOTEL Praha

Franchising &... Real Estate Agency Networks (2009)
14.5.2009 Hotel NOVOTEL Praha

Franchising &... Real Estate Agency Networks (2008)
15.5.2008 Hotel NOVOTEL Praha

Franchising &... BRAND (2008)
23.4.2008 Hotel NOVOTEL Praha

Franchising & ... Real Estate Agency Networks (2007)
5.6.2007 Hotel NOVOTEL Praha

Franchising & ...ADVERTISEMENT (2007)
1.3.2007 Hotel NOVOTEL Praha

Franchising &... BRAND (2006)
22.5.2006 Hotel Ibis Praha


INTERNATIONAL CONFERENCES
Franchise Day 2018
26.4.2018 OKsystem Palace, Prague

Franchise Day PRO FUTURO
31.10.2017 OKsystem Palace, Prague

Franchise Day Prague 2017
11.5.2017 OKsystem Palace, Prague

Franchise Day Prague 2016
15.11.2016 OKsystem Palace, Prague

Franchise Day Prague / FrAMchise Day 2015
12.11.2015 OKsystem Palace, Prague

Franchise Day Prague / FrAMchise Day 2014
13.11.2014 OKsystem Palace, Prague

Franchise Day Prague / FrAMchise Day 2013
7.11.2013 Kaiserstein Palace, Prague

Franchise Days Prague 2012
9. and 10.11.2012 Corinthia Hotel Prague, Prague

FrAMchise Day 2011 - American Franchise Day (2011)
20.10.2011 Corinthia Hotel Prague, Prague

FrAMchise Day 2010 - American Franchise Day (2010)
20.10.2010 Prague Marriott Hotel Prague

FrAMchise Day 2009 - American Franchise Day (2009)
20.10.2009 Hotel Hilton Prague Old Town Prague